When you add £80 or more of products to you your basket you will qualify for a discount of £9.98 off the delivery cost. This means FREE shipping for most or a £9.98 discount if you choose a surcharged delivery method.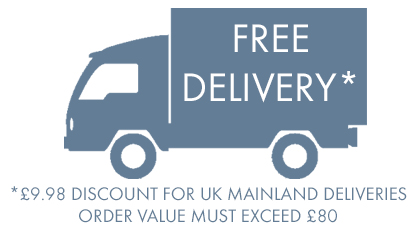 COLLECTING YOUR ORDER:
If you're local then we are happy for you to collect your parcel directly from our New Butcher's Shop & Cafe – just choose "Collect from Shop" at the checkout stage. Why not come and have a coffee and some cake at the same time? The collection address can be found on our Cafe & Shop page.
DELIVERING YOUR ORDER:
For the majority of our customers we send parcels via overnight courier in a complimentary insulated box with ice sheets to make sure your order arrives fresh and ready to use. Parcels are sent out Monday through to Thursday.
Delivery will take place between 9am and 5pm – if you require a morning delivery slot, please ring us on 01270 524750.
As our products are sent out fresh – the courier must leave the parcel with you – it cannot be returned to the depot. If you're not going to be in please specify a safe place to leave the parcel. This can be with a neighbour, in the porch, behind the wheelie bin – whatever suits you best. You can specify this safe place in the Order Notes field when you proceed to the Checkout phase of your order. Please supply us with your mobile telephone number so that the courier can get in touch with you regarding your delivery timeslot.
SPECIFYING A DELIVERY DATE:
Please note –  we cannot guarantee to process your order on the day we receive it for next day delivery. All our products are cut fresh to order (unless specified in the product description) and stock availability means that sometimes it can take a few days before we can ship your order.
If you need your order delivered on a specific day, we advise ordering as early in advance as possible and then specifying a delivery date. You can do this in the "Order Notes" field at the Payment stage of the checkout process. However, If it's urgent then we will do our best to accomodate you, just let us know your requirements in the Order Notes field.
When you place your order online, you will receive an automatic message confirming the order and we will advise you again once the order has been dispatched – this will include details of the courier and your tracking number. An update to "processing" is usually within 24-48 hours of placing the order but again, this does depend on our stock levels.
Saturday morning delivery is possible. You MUST ring the office to arrange this as there is a £25 charge for delivery pre-12pm on a Saturday morning.
If you have any queries or questions regarding your order please get in touch by email farmshop@chestnutmeats.co.uk or phone 01270 524750 – we pride ourselves on our personal service, for which we are often highly commended.
HOW QUICKLY IS MY ORDER DISPATCHED & DELIVERED?
Your order shipment is dependent upon our stocks, as we cut everything fresh to order. If your product is in stock you can expect delivery the next working day, however please call us directly on 01270 524750 and we will do our best to provide an estimated arrival date.
This does not apply to collection orders – you will be contacted directly regarding what day is best.